We already know the biggest advantage of Whatsapp is that all your friends use it, but sometimes it does not seem completely safe or sometimes for some strange reason it stops working and makes many who are looking for alternatives. Here we propose some.
Safer alternatives
Signal Private Messenger
If we are concerned about privacy, then Signal is our messaging application as it has the seal of approval of Edward Snowden.
It is a simple application, without much frills. The registration form is the usual through the telephone number with a verification code. At first glance nothing out of the ordinary but all messages are encrypted and also allows you to block messages using an access key with expiration date and even block the screenshots. Signal does not have access to any metadata. The application also allows you to make calls through it and the best, sound is also encrypted. Confidentiality is called Signal.
Wire – Private messenger
One of the most talked about applications in the last year as a favorite alternative to WhatsApp. Among its strengths we highlight security, with point-to-point encryption, its simple interface and the ability to navigate with gestures. In addition, music lovers and with Spotify Premium account will be able to link their account to Wire. It also allows you to use it as a client on your computer or tablet.
Telegram
Telegram was one of the first alternatives that really could shadow WhatsApp. It's an app focused on security and speed. To start using it we have to enter an activation code that is sent to us through SMS (as it happens in the vast majority). One of the most outstanding features is the 'Secret Chats', where our messages are encrypted and self-destruct after the time we specify. It also has good synchronization between the mobile devices and the computer. And some fantastic stickers!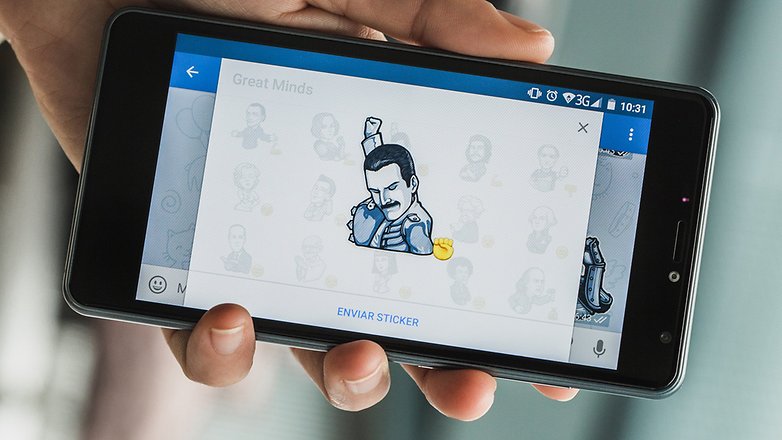 Alternatives by Google
Hangouts
One of the reasons why Hangouts is on this list is the spectacular integration and synchronization of Hangouts on all your devices, including the laptop or desktop. It has VoIP, or what is the same, calls to telephone numbers via data connection, and the quality of calls is as good or better than the telephone. And to top it off, it offers group video chat. Almost everyone has it already installed, so it will be much easier to convince your contacts to use it, and is developed by Google so that the constant improvements and updates will not stop coming.
Allo
Messaging applications are adding more and more things. Google did not want to be left behind and launched a modern proposal under the name of Allo. This smart application gives us many possibilities of communication ranging from the classic steakers to the possibility to SCREAM or whisper messages. Of course, there is no shortage of automatic responses or incognito mode, with end-to-end encryption.
The most striking thing about Allo is that you can start a chat with Google Assistant  and in that way, include the conversation assistant to help you plan which restaurant you are going to go to for dinner, for example.