The 2018 tools for creating infographics help you create graphic content to make your messages more visually appealing. These programs are efficient and powerful but easy to use tools that, without a doubt, can change the style of your publications.
So, these 2018 tools to create infographics allow designers:
Capture the viewer's attention better than creating only black and white text.
Help users create visually appealing stories backed by data.
Drive traffic to your website.
Help users to understand more easily something that in written format can be complicated.The purpose is often to break down complex information and present it in a way that can be easily understood.
Most users prefer to see an image or a graphic that read an entire article or a report. Fortunately, you can include as much information as an article in an infographic. That is why this type of visual resources are used to transmit information.
One of the problems that usually appears is that a specialized team is necessary to create this type of content. Something that thanks to the following tools of 2018 to create infographics is no longer so true. If you are clear about what you want to tell, you can count on tools to create infographics and graphics that will help you to give life to that information. And to be able to create better content.
10 tools of 2018 to create infographics
In recent years, infographics have become a widely used visualization tool. More than anything because they are a way to show perfect ideas for digital marketing. However, there are so many tools that it can be difficult to know which one is the best.
To help you with this dilemma, here is a list of the 2018 tools to create infographics available in the market. Choose any according to your budget and requirements. And enjoy creating incredible infographics.
1.- Be Funky
Befunky is one of the tools of 2018 to create infographics that can help you create beautiful, persuasive and useful images. It offers easy-to-design templates and hundreds of design elements along with more than one million free images from Pixabay .
This tool helps you transform complex data into visually appealing stories . Befunky is easy to use: Select a template, customize the theme with images and icons and, finally, customize the infographic by adjusting the text, colors and design. These are its main functions:
Photo editor : BeFunky facilitates photo editing. This feature allows users to convert and edit the photos to their liking.
Collage of photos : This function is ideal to present and create a combination of images to tell a story or share something that a brand wants with its audience.
Designer:  This tool is ideal for those who like design but do not want to use a tool for experts such as Photoshop.
With this set of tools, designers can create fully customized graphic designs.
2.- Snappa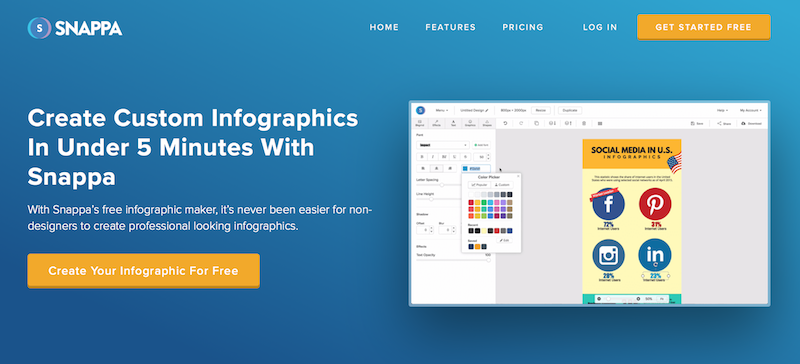 Snappa is one of the best tools to create infographics. It is perfectly made for non-designers. Among all the other free online infographics tools, with Snappa, anyone who does not know anything about graphic design can create designs in just 10 minutes.
Snappa includes some predefined templates that are optimized for sharing on social networks or on any website. Some of its characteristics are:
It offers a graphics editor with all the typical functions.
Snappa is accompanied with a large library of photos.
The templates available are of high quality.
Allows you to change the size of your graphics.
It has a folder in which you can save and organize your designs correctly.
The tool also allows you to import custom fonts.
3.- Canva
Canva helps you create beautiful designs easily. It is suitable for all kinds of design tasks. This powerful tool is suitable to create any graphic element that a brand needs. Canva has a wide library of icons, images and fonts to choose from.
These are the characteristics of one of the tools of 2018 to create more familiar infographics of the market:
It's free and is filled with design elements and free fonts.
It allows you to present relationships between two or more datasets in an easy way. If you need to compare and contrast different numbers or make tracking changes in a given period, Canva is an interesting solution.
It offers thousands of designs for graphics in social networks and presentations as well as infographics.
It also allows to create infographics of a multitude of sizes adapted to each website.
4.-  Piktochart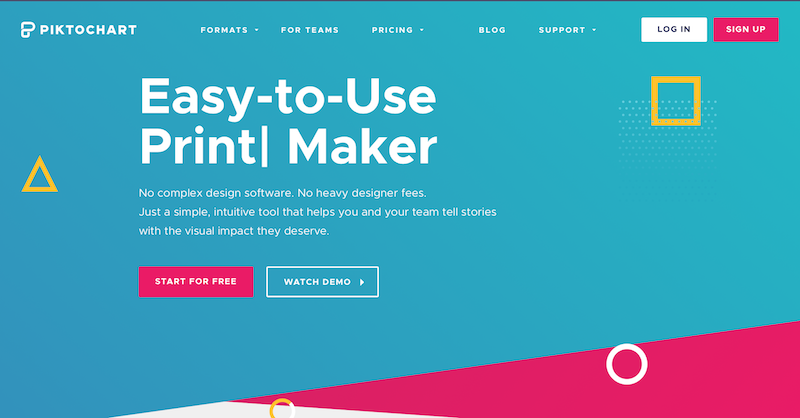 Piktochart is one of the most used and well-known tools on the market together with Canva. It has more than five million users worldwide. Piktochart offers both a free version and a paid subscription.
With this tool, you can get access to a lot of custom templates created by professional designers. Everyone who uses it seems comfortable because it is a very simple design software.  Any designer can use this intuitive tool to give a different touch to its content. Its main features are:
The custom editor allows you to modify combinations of colors and fonts.
You can insert graphics or upload the images you want.
Grid aligned templates are useful for aligning graphic elements and resizing images proportionally.
5.- Infogram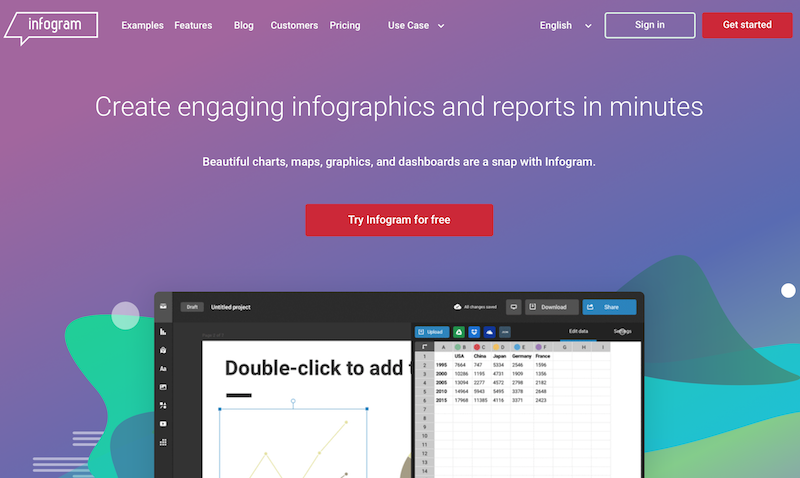 With Infogram you can design attractive infographics in a few minutes. Infogram is a tool that allows marketing specialists to design graphs, infographics, maps and reports in a fast way. You can rewrite the data in a clear and attractive way.
Launched in 2012, Infogram is now one of the best online tools for creating infographics. And it is ideal for those who see data as a powerful mode of communication when viewed efficiently . These are the features of the tool:
It has more than 20 design themes to choose from.
It allows people to create a custom theme with colors, logo and fonts to give the brand its own identity.
Infogram allows designers to create stunning graphics and maps.
It comes with an easy-to-use editor.
It offers the option to create totally responsive infographics.
It contains some basic templates that can be easily customized with statistics and relevant graphics.
It has an easy-to-use interface.
6.- Visme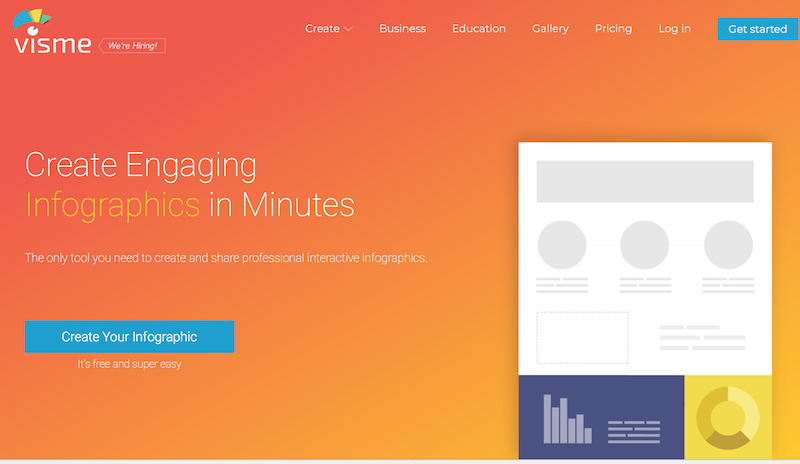 Visme is one of the tools of 2018 to create infographics that gives voice to your images with their characteristics. This online software allows users to design not only attractive infographics. You can also create presentations, graphs, reports and interactive tutorials. Its main features are:
Includes more than 100 free fonts, millions of free images and a multitude of quality icons.
She is known mainly for having a special ability to handle animations and interactive elements.
It is a program to create easy-to-use intuitive infographics that transform the way your content.
7.- Adioma
Adioma is a great tool for creating infographics that includes an interesting range of templates and a huge library of icons. In addition, it has several color palettes. Its basic characteristics are:
It comes with responsive templates of infographics.
It has an automatic icon to match words.
It has the most extensive collection of icons on the market.
Easy export characteristics.
It offers you a wide range of color combinations with just one click.
Ease of change of template within your design.
8.-  Venngage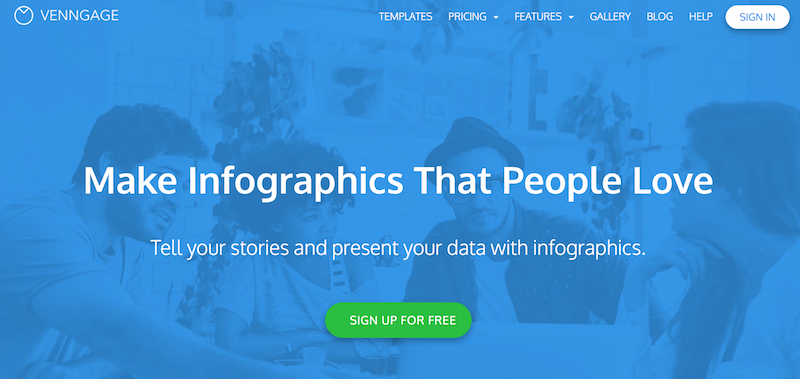 Venngage is another of the 2018 tools for creating convenient and easy-to-use infographics. This tool provides users with a variety of templates, themes and icons.
The tool also has features that allow you to animate your images to add more movement to your graphics . That's why it's a perfect interactive infographics program. These are its main characteristics:
Venngage has characteristics classified in three sectors: commercial, premium and education.
It offers templates and customizable infographics themes.
It allows the user to import data directly from their spreadsheets.
You can drag the widgets directly to the blank sheet.
It gives you the facility to insert and link your infographics in your blog or website.
9.-  PicMonkey
PicMonkey is an online image editor that designs beautiful infographics. The user can choose between the available templates and customize them according to their design needs. The best thing is that PicMonkey helps users with a selection of tutorials.
It teaches how to design an infographic and how to make a custom design to publish it on social networks . The special features of the tool are:
It has an amazing photo editor.
Enable the portrait retouch option.
In fact, it is one of the best rated design programs of the year.
10.-  Biteable

The infographics in video format are a novelty to incorporate this year . Biteable is a free tool that allows you to make infographics of interesting, entertaining and informative videos. It is best to use Biteable to edit and create free infographic videos instantly. And, in addition, you can improve your relationship with users. These are the features to highlight of this new tool:
It helps you share your videos on YouTube, Twitter or Facebook after creation.
You can create presentations, animations or slides.
It offers music to incorporate: you can choose the required melody from the music library of the tool.
It has hundreds of animated, action or photographic scenes of many different styles.
In Antevenio we can achieve greater visibility to your infographics thanks to effective content marketing  strategies with influencers. We help you create the best content to achieve your marketing objectives. You will also improve your engagement and the reach of your publications with the influencer marketing .