We teach you to use two accounts of WhatsApp in the same Android phone with two different numbers in a simple way and without having a smartphone with double SIM
We use WhatsApp every day to talk with our family and friends, but we see their use even more as a means of communicating with colleagues at work or to contact clients. It is in this case when users encounter a serious problem: even if you have a phone with a double SIM card with your personal and work number,  you can not have two accounts , since you can only download the app once from the store . Therefore, with a dual SIM phone you could send SMS and calls from each SIM card, but you will not be able to send WhatsApp messages from two different accounts.
Fortunately, yes there is a way to get to have two different accounts on the same phone using applications that we can double the app for WhatsApp  you have installed. In addition, the brand or manufacturer does not matter since all models are compatible. It is not necessary either to have a dual SIM phone or advanced computer skills to do so. The only problem would be if you have an iPhone, since then you would need to jailbreak to get this.
In case you have a Xiaomi, Honor or Huawei phone , it will not be necessary to download any application either, since the manufacturers of these phones include within the system the option of duplicating applications. At the end of the article we explain how to do it, it is a really simple method, although the options offered are more limited, and in the case of Huawei and Honor phones allow you to duplicate very few apps.
The 4 best applications to duplicate WhatsApp
Before we start, we inform you that the following applications not only serve to clone WhatsApp, you can duplicate practically any application of your phone such as Facebook, Instagram or even games like Clash Royale. In this way you can have several accounts or several games.
To verify the phone number of  the new WhatsApp account it will be necessary to change the SIM, have another phone available or use a dual SIM. It is not necessary that the SIM is placed on the phone you want to activate, since you can write the code directly when it reaches the other phone. Of course, to make calls or send SMS with two different numbers you will still need a phone with double SIM, you can not duplicate the phone app and have two lines.
Cloner App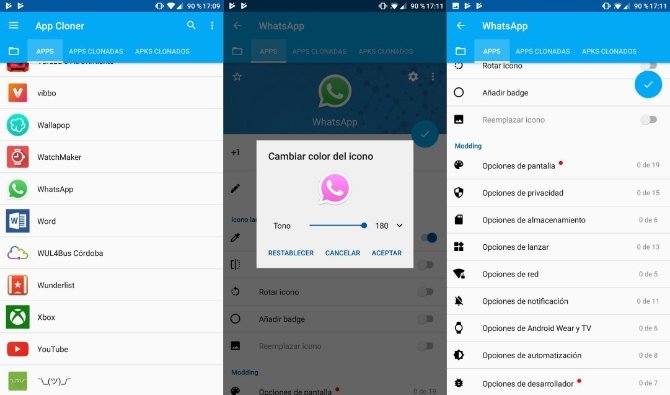 Cloner App interface
It is the most complete application of all and it is also very easy to use: we simply have to select the app, configure how we want the copy and give it to create. But to duplicate the WhatsApp app you will have to buy the paid version for 3.99 euros . It is not a very high amount, and it is definitely worth the investment, since App Cloneroffers you a large number of options when it comes to cloning an app.
Not only allows us to customize the icon of the cloned app, but also modify it internally such as changing the color of the interface (we can leave the personal WhatsApp green and blue the work, for example), choose if we want to block the app with password and many other options. The only limitations of WhatsApp cloned with App Cloner will be not being able to send messages from the Contacts app and not being able to back up conversations in Google Drive.
Parallel Space – Multi Accounts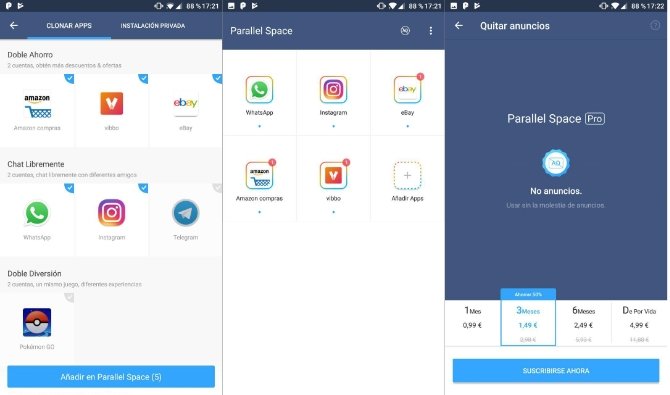 Parallel Space interface
Unlike App Cloner, it is a free application with the option to pay to unlock certain functions. It allows you to clone the WhatsApp application without having to pay, but with fewer options than App Cloner.
One of the advantages of App Cloner was the possibility to modify the icon, the interface or even certain internal permissions of the app. Parallel Space is simpler , since it offers access to all the apps cloned from the application or the possibility of putting on the home screen a direct access to the cloned app, but with a different icon.
2Face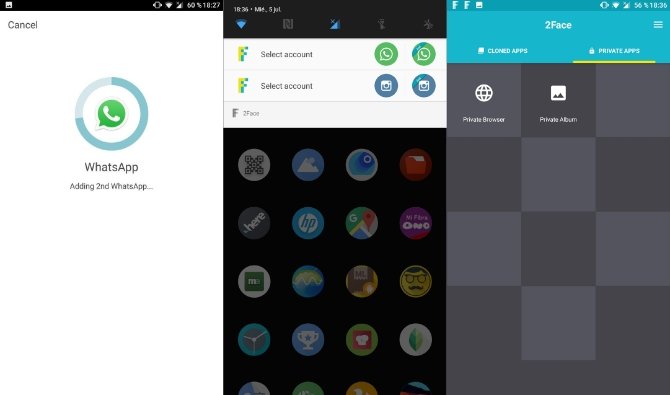 2Face interface
This application differs from the others in a very interesting addition: it is free and allows access to the original and duplicated application directly from the notification center of our phone. 2Face does not have a configuration and customization system as complete as in App Cloner, but it can be useful for some users to have in the notification center access to their two WhatsApp accounts.
If you are not interested in this feature, you can deactivate it and have only one shortcut for the second WhatsApp account on the desktop with the other apps. But unfortunately, if you have a phone with Android 7.0 Nougat or higher , the app does not load the duplicate applications well and shows a black screen when trying to open them.
GO Multiple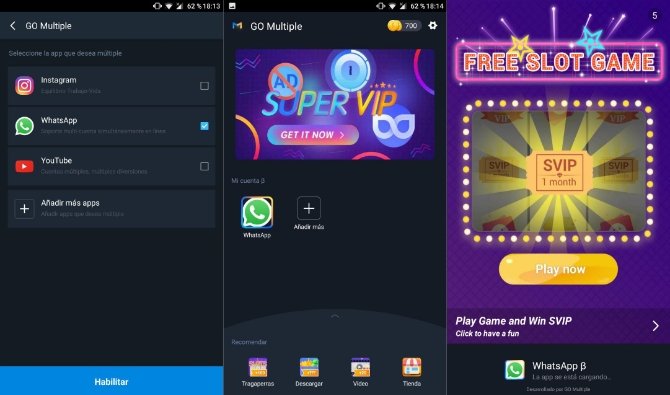 Multiple Go Interface
Finally, we have the alternative of the developers of the famous GO Launcher. It is also an app that allows you to duplicate WhatsApp and other applications for free, but that has a lot of publicity and a system based on coins to unlock different functions.
We can get the payment functions of the app by exchanging those coins that we can get playing different games or downloading applications. The main problem with Multiple GO is that, without the unlocked payment functions, sometimes opening a duplicate app will show an ad for 5 seconds .
Its main advantage is to enjoy the premium functions without paying thanks to the coins, but this would only be interesting for people who find it impossible to buy an application in the Google Play Store, since App Cloner or Parallel Space are alternatives interesting
Special case: Huawei and Xiaomi phones
If you have a Xiaomi phone, as of  MIUI 8.0 you will have this feature available, and in the case of Huawei it is from  EMUI 5.0 . You can check the version of your operating system from the general settings menu of the phone in the information section.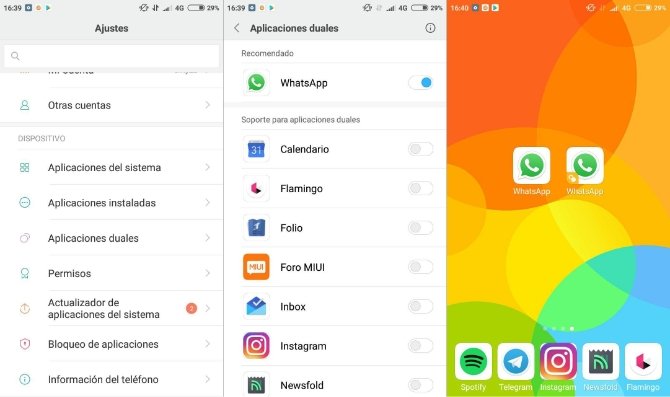 Duplicate WhatsApp on a Xiaomi phone
In the case of  Xiaomi , you should simply go to  Settings> Dual applications  and select the app you want to duplicate. After a brief process you will see a message indicating that you have the new app on the main screen, and you simply have to register in WhatsApp with the new number.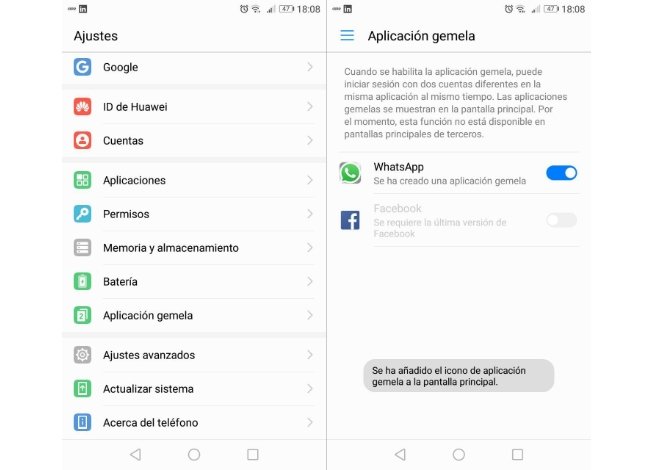 Duplicate WhatsApp on an Honor phone or Huawei
For Huawei or Honor phones   with EMUI, the process is very similar. The only difference is that we will have to look in the phone's configuration menu for the section called  Twin Application . Once inside we will see the apps that we can duplicate, and we will simply have to activate the duplicate of the app that we want.