Facebook Ads is the system by which you can promote your Facebook Page, Website, Event or Application. Thanks to it, you can create text, graphics and video ads, which will be displayed at the start, profile and photos of users, paying only for the clicks received.
Facebook Ads is the sponsored ads platform of this social network. Facebook Ads has become a very valuable online marketing tool for companies since it allows you to create campaigns even with tight budgets.
In Facebook Ads we can create text, images and video ads that will be shown in the News section of the users, that is, on their homepage.
With Facebook ads you can promote Facebook pages, Facebook Events pages, websites and mobile applications.
Advantages of Facebook Ads
Audience segmentation : Facebook Ads is the strongest point because it allows us to reach the user sociodemographic profile that matches our ideal client with our ad. And a community of more than 1,300 million active users.
Facebook Ads allows you to approach segmented audiences that match our target audience.
Integration : Facebook advertising is integrated into the rest of the contents as if they were publications made by friends or the pages the user follows.
Visualization: Facebook Ads ads work as publications, so you can share, comment and "Like" them.
Analysis : the reports provided by the tool allow us to draw conclusions from the campaigns carried out.
In addition Facebook Ads has a campaign structure organized into three levels , which facilitates the performance of A / B tests.
The three levels are:
Campaign : is configured based on the advertising objective pursued, and is chosen from 10 different types.
Ad group : Audience, budget, and campaign publication calendar are determined.
Announcements : are the final presentations of the banners and publications that are promoted in the campaign.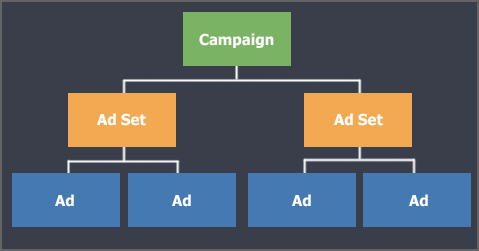 As we have seen, with Facebook Ads you can create ad campaigns based on our advertising goals . Therefore, in the configuration of our ads we can choose between different types of campaigns:
Promote your publications
Promote your page
Attract people to your website
increase conversions on your website
increase the facilities of your application
Increase interaction in your application
Reach people who are close to your business
Increase attendees to your event
Getting people to request your offer
increase video views
Due to the magnitude that this Social Network has taken, Facebook Ads has become a fundamental weapon for any SME.