Marketing Automation is not a new concept because for quite some time now, many recognized companies worldwide have used it to automate their business, and offer personalized experiences to both current and potential customers. However, small and medium-sized companies are beginning to realize the enormous potential of automating their digital marketing, because this practice helps optimize human resources as well as commercial management.Fortunately, today there are numerous platforms that allow the automation of digital marketing, and adapt to all business needs and budgets that each business has. Therefore, in this article I have tried to compile the best platforms for automated digital marketing. I hope you feel bored with the content because it is quite extensive, since there is also a short introduction about the operation of marketing automation, its advantages, and the most popular myths
What is  Marketing Automation?
Marketing automation  is the use of software to perform marketing actions in an automated way . Thanks to this, a company can perform processes that would naturally be difficult and achieve more efficiency and results and greater control and monitoring over them.
Marketing Automation refers to a software that is designed to execute all those tasks performed in digital marketing strategies in a faster and more efficient way.For this reason, the Marketing Automation softwares are known as all in one platforms, since it allows to automate and manage all the processes related to the digital marketing of a business from a single place.
Benefits of marketing automation
Thanks to the implementation of marketing automation, a series of advantages are obtained, among which are:
It allows to develop complex marketing processes that, naturally, would be difficult or could not be done.
It provides more efficiency and reduces personnel costs and time .
The company achieves greater control over marketing actions and, in addition, can closely monitor its impact .
It allows to design processes of education and automatic maturation of a database (lead nurturing) . Thanks to marketing automation, the email and the right content are delivered to the right user at the right time.
It also allows you to automatically detect the records that are most prepared to receive a commercial offer taking into account your profile and behavior with the company (lead scoring).
Lead nurturing and lead scoring
The most relevant automation examples are lead nurturing (chains of emails that are sent automatically after site visitors carry out a specific action) and lead scoring , procedure by which is evaluated at which stage of the purchase process is each lead that appears in the database of the company. These two procedures are essential to convey to users the benefits that can be provided by the product or service offered by the company and bring them closer to the purchase.
Lead nurturing and lead scoring, in reality, are not confronting concepts, but complementary . Both are encompassed within what is marketing automation or marketing automation where, although there are more concepts, are the two fundamental.
Lead scoring
Lead scoring has a lot to do with how to get the records of a database ordered automatically, and practically in real time, depending on their qualification .
To achieve this, it is necessary to build  scoring models . There are many companies in the market whose software value proposition consists of analyzing the database and the behavior of the clients to, from there, determine their qualification.
However, you can also build scoring systems that are not so smart, but work really well, especially in terms of recruitment. In fact, we can do two types of scoring within marketing:
Scoring of recruitment:  This type of models are related to the processes of attracting new customers for a database. Thanks to them, you can discover if the users are qualified to start the commercial approach or not. If their maturity is confirmed, it is possible to resort to a specific model that will allow launching promotions that encourage them to continue advancing in their purchase process.
Loyalty Scoring:  This type of models have a lot to do with upselling and cross-selling processes . There is a great variety of scoring models for loyalty, which will change, depending on the market we are in and the type of clients that a company has. Depending on the objective, we will act in one way or another and, for example, if customers are seasonal, their score will increase as the seasonality reaches the point where the purchase will be generated again .

Lead nurturing
Lead nurturing is the other fundamental concept related to marketing automation. It is usually defined as automated email chains that aim to educate or mature the leads of a database.
The interesting thing is when this is integrated into an automation tool, because then it is linked to the scoring process, so that the automatic sending of emails varies according to the score of the leads.
Finally, it should be noted that nurturing can be carried out at two different times:
Nurturing of recruitment : refers to nurturing actions that are put in place to get people who are not yet ready to buy, do so. The goal here is education for the purchase .
Loyalty nurturing : this is a totally different approach. It allows knowing, the type of content or offers that are most interesting to send at each moment to each client of a database, depending on their characteristics or behavior.
The marketing departments have undergone a process of modernization in the last 25 years, especially since the appearance of the first search engines on the Internet, in the mid-1990s. A scenario in which the analogue yields ground and in which each more resources and media of technological cutting appear, such as Google Adwords, Facebook Ads, etc.
In this context, the need arises to have marketing campaign planning tools , as well as the optimal technology to be able to manage them correctly. This includes the most diverse tools, which allow carrying out all the actions of a digital marketing campaign, for example: sending emails, managing web pages, creating segmented lists or tools that allow to unify the management of all the social profiles.
On the other hand, we must not lose sight of the fact that, in recent years, there has been a great compaction of the market , in which more and more companies are launching to market their own software products. Since 2011, the number of softwares and companies dedicated to digital marketing has doubled every year. Of the 150 companies that existed in 2011, it has gone up to about 5,000 in 2017 as you can see in that image of Chiefmartec :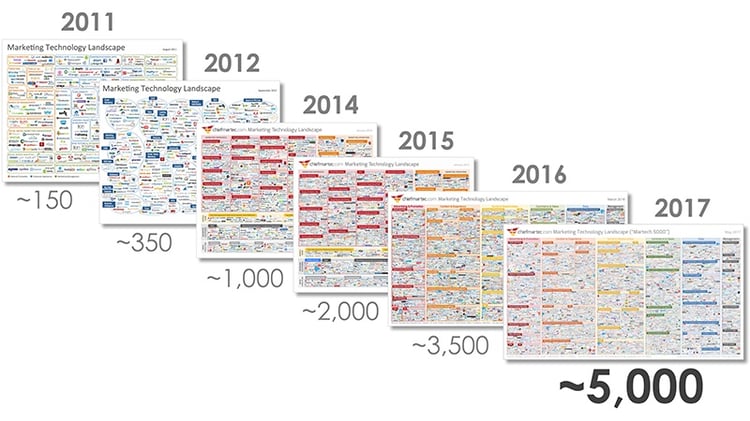 As an illustrative case, it is enough to remember that inbound marketing was born in 2005 by the company HubSpot. Therefore, this discipline presents in its DNA an undeniable technological base, called to streamline the day to day of various online marketing operations.
Likewise, in inbound marketing, a conglomerate of different marketing techniques and methods converges: managing a website, creating online content, SEO, mailings, social network management, web analytics, traction of traffic through techniques of pay per click (PPC) and social ads.
This is precisely one of the great goals that inspired the emergence of inbound marketing: integrate all these techniques into a single technology, since it is very complicated to use a specific tool for each task. Therefore, inbound marketing can not be understood without taking marketing automation into consideration .
Grosso modo, we could say that marketing automation includes three main areas:
Engagement with the product.
Automation of repetitive marketing processes.
Automatic education of the database.
Next, we'll see what they are.
1. Engagement with the product
It has to do with the interest aroused by the commercial offer of a company in current or potential customers . It is managed from two techniques:
Sending emails and interactions:  This is one of the most effective methods to publicize a product or service among contacts in a database, or keep the interest in them alive. With the automation of marketing, this process undergoes a substantial change: now, emailing campaigns are launched automatically when the user complies with a series of characteristics related to their profile and behavior with the company. Therefore, the company can have dozens of campaigns that work simultaneously. While these campaigns also have to be designed, they do not have a moment of completion, unlike conventional emailing actions, with which they can extend their relationship with the client. 
Re-engagement: It consists of capturing the attention and interest of the user automatically after a period of inactivity or without interaction occurs . Thus, when it is detected that the user has a specific time without using a product (for example, a computer platform), he / she can be encouraged to use it again by email.
2. Automation of repetitive marketing processes
This utility of automation is key for the marketing department, while offering additional advantages: the end user does not perceive that this process is not carried out naturally and the work is more efficient, since it saves money time and resources in the execution of recurring tasks.
You can have the following applications:
Changing the properties of user profiles:  thanks to marketing automation, a change of ownership can be automatically implemented to a large volume of database leads . For example, a property can be assigned to all contacts in the database through a workflow.
Instant interaction with users:  Another advantage of automation is that it allows automated notifications to be sent to users who have carried out a certain action . For example, it is possible to create a workflow that sends a notification by email, SMS or tweet (among others) to the person who has addressed the company. In this area, we must also highlight a critical aspect: the access of Internet users to the price page of the company. When this receives a visit, the automation allows sending an internal email to the members of the commercial team so they are aware that there is a user interested in the offer of the company.
Automatic segmentation of contacts:  marketing automation can help the segmentation of contacts in a company's database in the following ways:

When certain criteria defined by the company are met , the contact automatically becomes part of a list that will be used in specific campaigns and actions.
You can set up lists that group users who have performed a specific action (for example, downloading an ebook). With automation, those who do this action will automatically switch to a list that includes all Internet users who accessed the aforementioned content.
3. Automatic education of the database
With this process, it is possible to start a chain of actions -normally through e-mail- that help the records of the company's database to mature and advance in the purchase process. As we have seen in one of the previous points, there are two basic systems for automatic education: lead nurturing and lead scoring.
The market of marketing automation has more and more competitors. A scenario that is reflected in this G2 Crowd graphic :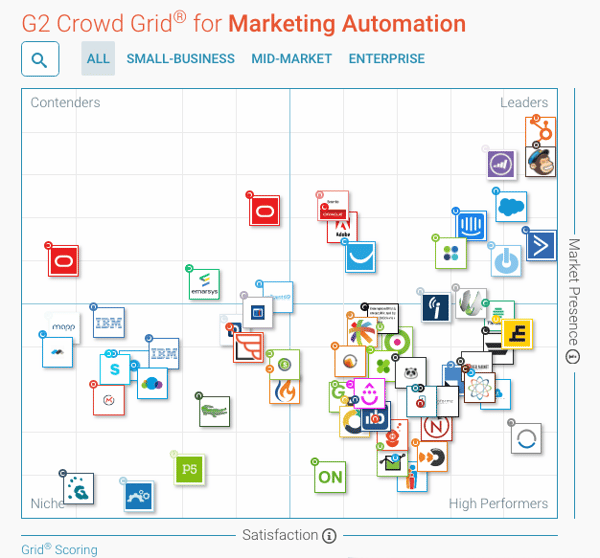 Among all the companies in the field, the best positioned company is HubSpot , which is the one that leads the marketing automation sector at present.
Other relevant firms are Oracle Eloqua , Pardot and Marketo . In general, all these technological solutions are directed mainly to large companies, due to its high cost, which usually ranges between 800 and 1000 dollars per month.
Therefore, it is not an exaggeration to say that, to date, there were hardly any products designed for SMEs. Fortunately, thanks to the emergence of Infusionsoft , small and medium businesses can access marketing automation software at a much more affordable cost, which is usually between 200 and 300 dollars per month. This trend allows us to glimpse a promising horizon that organizations like Autopilot or Intercom also want to address .